Have you been searching for how to secure a loan from Heritage Bank Nigeria Limited? Welcome to the right source to give you a full guide about how to go about it. Take good time to read this article so as to find the desired result about how to get a loan from Heritage bank.  Before we get started, it's pertinent to define or know what heritage bank is.
What is heritage bank?
Heritage Bank Nigeria Limited is a leading financial institution in Nigeria providing banking services to customers since 2012.
It offers a wide range of services to meet the needs of individuals, small businesses and corporate clients. These include loans, savings, investments, wealth management, foreign exchange, current accounts and much more.
What are the types of loans offered by heritage bank?
Heritage Bank Nigeria Limited offers different types of loans for their potential customers. They include:
Personal Loans: This is a loan designed for individual use and can be used for debt consolidation, home improvement, marriage or vacation expenses. The loan is offered with an affordable repayment plan and flexible terms.
Vehicle Loans: Heritage Bank offers loans for the purchase of cars and motorcycles. The loan is offered with competitive interest rates and repayment plans tailored to the customer's needs.
Mortgage Loans: This loan is ideal for those who are looking to purchase a property or refinance an existing one. Heritage Bank offers attractive interest rates, repayment options and flexible terms.
Business Loans: This loan is designed for businesses to help them grow and expand their operations. Heritage Bank offers loans for small and medium-sized businesses with attractive interest rates and terms.
Education Loans: Heritage Bank offers loans for students who are pursuing higher education in Nigeria or abroad. The loans are offered with flexible terms and competitive interest rates.
Requirements for getting a loan from heritage bank
A valid means of identification: you need to have either a valid driver's license, International passport, or national ID card.
Bank statements: you must have up-to-date bank statements which will be used to confirm your financial stability.
Proof of address: you need to provide an official document such as utility bills, rental agreements, or a letter from your landlord confirming your place of residence.
Proof of income: you need to show evidence of your income. This can include employment documents, salary slips, bank statements, tax returns, etc.
Collateral: in some cases, Heritage Bank may require you to provide collateral. This could include a car, jewelry, land titles, or other forms of security.
Credit history: the bank will review your credit history to determine whether or not you are eligible for a loan.
Agreement form: once all the documents have been submitted and approved, you will be required to sign a loan agreement form which outlines the terms and conditions of the loan.
Repayment terms for loans from heritage bank
It's important for all potential customers who wish to borrow money from heritage bank to be well-disposed to the repayment terms. Well, have provided it below, kindly read it.
The loan should be repaid in regular installments at the interval and amount specified in the loan agreement.
The loan should be repaid with the same type of currency used for the loan.
A pre-determined interest rate will be applied to the loan.
If a payment is not made on time, late fees may be charged.
In some cases, the loan can be refinanced if necessary.
If the loan is repaid early, certain penalties may apply.
The entire loan amount must be repaid by the end of the agreed-upon period.
All taxes and other charges associated with the loan must be paid in full before the loan can be fully paid off.
What are the interest rates for a loan from Heritage bank?
The exact rate of interest you will be offered depends on your credit score, the amount of the loan and the repayment term. Generally speaking, Heritage Bank has lower interest rates for those who have a good credit score, and higher interest rates for those with bad credit. Interest rates can range from as low as 6% up to 30%, depending on the loan  you choose.
Read: How to get a loan from Fidelity Bank in Nigeria in 6 easy steps
How to apply for a loan from Heritage bank
Visit Heritage Bank Nigeria Limited's website and locate the loan application form.
Provide all the necessary information in the loan application form.
Submit the completed loan application form to the bank.
You may be required to provide additional documents such as proof of income, identity, and address.
The bank will review your application and inform you of the decision.
If your loan is approved, you can collect the funds from the bank or arrange for it to be transferred to your account.
Repayment of your loan begins as soon as the funds have been released to you.
Frequently Asked Questions (FAQ)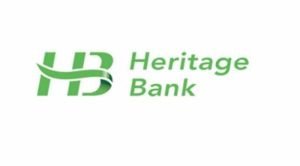 How do I qualify for Heritage bank loan?
In order to qualify for a loan from Heritage Bank Nigeria Limited, applicants must be aged 18 or over, and have a valid identity document.
Applicants must also have a steady source of income, good credit score, and should provide proof of address and other required documents. Additionally, applicants will need to meet the bank's minimum requirements for loan amounts, repayment periods, and interest rates.
Read Also: How to get a loan from First City Monument Bank Plc: step by step Guide
What's the  Code to borrow money from Heritage bank?
The code to borrow a loan from Heritage Bank is USSD *745#. It is a secure and convenient way to get instant access to loans without visiting the bank. All you need to do is dial the USSD code on your mobile phone and follow the simple steps to complete the loan application process.
Conclusion
Is this guide helpful? If so, kindly comment in the comment section. Don't forget to always visit this site for more loans and scholarship updates. Thanks.